Update – July 29, 2016
Due to scheduling and technical issues, we will offer BINF 3201 and BINF 3201L in spring 2017 instead of fall 2016.
We plan to make the Spring offering better than ever, featuring new content and introducing new sequencing methods and applications. Therefore we highly recommend reserving time in your schedule to take the the class in Spring of 2017. Check back here for more information or feel free to get in touch!
---
The Bioinformatics Department at UNC Charlotte has developed a great class for students from CS, SIS, Biology and Bioinformatics to get hands-on experience in genomic methods, focusing on DNA sequencing.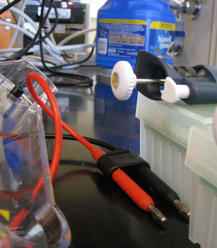 Why should you take this class?
These days, nearly everyone in biology uses high throughput sequencing methods in research. And these methods are getting cheaper, faster, and more accessible. Very soon – possibly within only a few years – you'll be able to get your own personal genome sequenced. If you're considering a career in medicine or biotechnology, you need to understand how these methods work.
However, many people who use sequencing methods don't know much about them. We don't sequence our DNA directly – first we extract it and convert it into a library. How we make these libraries dictates what we can do with the data later. In this class, you'll gain in-depth, first-hand knowledge of how we convert DNA into libraries into data.
You'll learn how to create a sequencing library from genomic DNA using a technique called long-range PCR, the same method you could use to sequence select human genes. You'll sequence the library using an Ion Torrent Personal Genome Machine (PGM), a low-cost sequencing instrument ideal for learning the basics. In the process, you'll also master basic molecular biology techniques – like how to pipette, how to extract DNA from a sample, how to run a gel, and how to design and perform a PCR experiment. By the end of the semester, you should be well qualified to start an internship in a molecular biology laboratory – or apply to a Ph.D. or health professions program to continue your training.
Outside of lab, you'll learn about many different approaches to sequencing, such as the limitations and strengths of different sequencing platforms. You'll also learn to use software tools to visualize and interact with data, such as Integrated Genome Browser, developed here at UNC Charlotte. And then you'll apply what you've learned by writing a mock grant application proposing an experiment that uses sequencing to answer a research question. (We'll provide plenty of ideas to help you get started.) Last but not least, you'll give a presentation on your idea.
Prerequisites:
Undergraduate level BIOL 1110 Minimum Grade of D and Undergraduate level BIOL 1110L Minimum Grade of D or Undergraduate level BIOL 2120 Minimum Grade of D and Undergraduate level BINF 1101 Minimum Grade of D