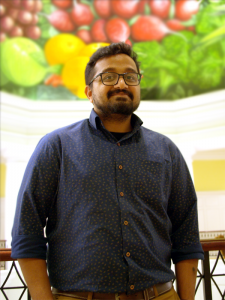 Karthik Raveendran joined the lab in Feb. 2019 during his second semester as a graduate student in Computer Science in the College of Computing and Informatics at UNC Charlotte. After earning his masters degree in May 2020, he re-joined the lab as a Ph.D. student, co-mentored by Dr. Jing Yang. He now researches visualization methods as applied to bioinformatics and genomics.
Prior to moving to Charlotte, Karthik worked several years at Ericsson India Global Services as a software developer. In this role, he developed several applications for the company, such as NEDx, a Java-based desktop application to help developers track and manage tasks. During his career at Ericsson, he developed and applied skills up and down the classic stack, from desktop to server.
Karthik received his Bachelor of Technology in Electronics and Communication Engineering from Amrita School of Engineering in Coimbatore, India.