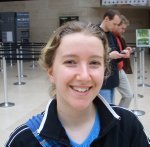 Ivory Clabaugh Blakley earned degrees in Chemistry and Biology from University of North Carolina at Charlotte in 2011. Following graduation, she joined the Loraine Lab as a Lab Assistant.
In 2012, she joined the team as a full-time Research Technician and in 2013, earned a promotion to Research Specialist. Through taking classes and self-study, she gained new expertise in R programming and reproducible research in bioinformatics and is now our lead data analyst.
In 2013, she co-designed and co-taught workshops on RNA-Seq data analysis at the Workshop in Next-Generation Sequencing (WiNGS) that was held at the UNC Charlotte City Center Campus in May, 2014.
In her spare time, Ivory enjoys several hobbies, including bee-keeping, contra dancing, and tennis.
Visit Ivory's Google Scholar page to read her papers.