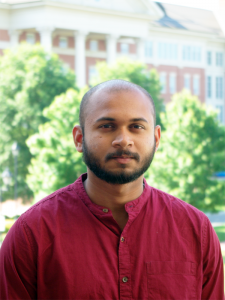 Chaitanya Kintali joined the group in May 2019 following his first semester at UNC Charlotte, where he is pursuing a masters degree in Computer Science.
Chaintanya earned his BTech in Computer Science from M.V.G.R. College of Engineering in Andra Pradesh, India.
Since completing his undergraduate degree, Chaintanya has worked as a software developer at such companies as Getdomestichelp.com, VTS Technologies, and AdTech Corp.
In his most recent position at AdTech, a startup in Hyderabad, he worked as a full stack developer, contributing to system design, development of REST service, integrating services with front end technologies, and deploying them on the company server.