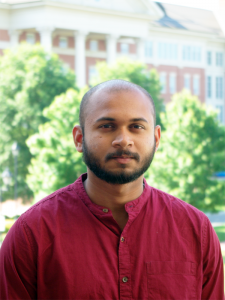 Chaitanya Kintali joined the group in May 2019 following his first semester at UNC Charlotte, where he earned his masters degree in Computer Science. After graduating, he joined Amazon.
During his tenure in the Loraine Lab, Chaitanya primarily worked on BioViz Connect, performing a lot of the back end engineering. For example, he designed and implemented BioViz Connect's mechanism of updating its list of IGB-related Apps deployed on CyVerse.
Chaintanya earned his BTech in Computer Science from M.V.G.R. College of Engineering in Andra Pradesh, India.
Since completing his undergraduate degree, Chaintanya has worked as a software developer at such companies as Getdomestichelp.com, VTS Technologies, and AdTech Corp.
In his most recent position at AdTech, a startup in Hyderabad, he worked as a full stack developer, contributing to system design, development of REST service, integrating services with front end technologies, and deploying them on the company server.