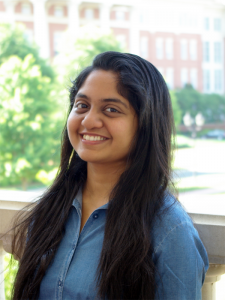 Shamika Kulkarni joined the lab in May 2019 following her first semester as a graduate student at UNC Charlotte.
Shamika earned her Bachelor of Engineering in Electronics and Telecommunication from S.I.E.S. Graduate School of Engineering, University of Mumbai, in May 2016.
Following this, she worked at TATA as a Consultancy Assistant System Engineer in for the State Bank of India. In this role, she focused on developing and handling software for banking transactions.
For more details, you can visit her LinkedIn page:  https://www.linkedin.com/in/shamika-kulkarni-27101994/