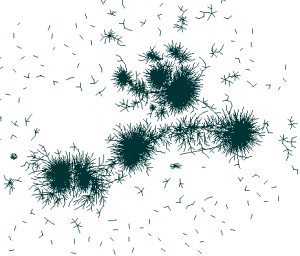 Co-expression analysis is a powerful tool for identifying genes involved in the same process. Because genes that participate in the same process are often expressed in similar ways across many experiments, we can use expression profiles of genes with known functions to identify other genes with related functions. In plants, this approach is especially powerful in identifying candidate genes for metabolic pathway enzymes or transcription factors that regulate them.
The power of this approach has motivated many groups to build Web sites that offer interactive tools for exploring co-expression relationships between genes. Co-expression tools are available for many plants, including Arabidopsis, rice, corn, and others.
However, these sites have limited usefulness because they pre-compute co-expression relationships, typically using all expression data sets available at the time the tool was built. This is a problem because many genes and biological processes are active in only a subset of cell or tissue types; including data from irrelevant experiments can mask co-expression relationships.
With this in mind, Ann and colleagues in the UAB Section on Statistical Genetics designed and built CressExpress.org, a web-based co-expression analysis tool implemented in Java. CressExpress is unique among co-expression analysis tools in that it allows users to choose which arrays to include in co-expression analysis.
In fall of 2014, we developed CressExpress 2.0, which features a re-designed database, updated user interface, and many new new data sets, including more than 8,500 arrays collected from Gene Expression Omnibus (GEO). Using Lucene indexing of array annotations, we improved searching, making it faster and more flexible.
CressExpress 2.0 is now available as a pre-release, beta version. Please feel free to try it out and let us know what you think.
Follow these links to find out more: